Sex Pistols mark 35th anniversary with the re-release of 'God Save The Queen' Released May 28th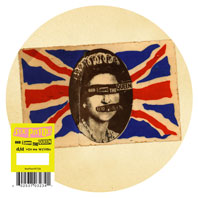 The Sex Pistols release a limited edition 7″ picture disc of God Save The Queen this Monday, May 28th 2012 via Universal Music Ltd.
The re-mastered picture disc 7″ single will also feature original b-side track "Did You No Wrong", and will be available internationally, but limited to just 3,500 records. The picture disc artwork features an original 1977 God Save The Queen sticker.
The single will be available to order via all good retailers, and can also be ordered directly via the Universal Music webstore.
Nearly 35 years to the day since its original release, Universal Music will re-release the Sex Pistols alternative national anthem – 'God Save The Queen' on May 28th. It will be exactly 35 years and a day after it was first released, in a barrage of controversy the likes of which the UK had rarely seen. No one had ever dared question the Monarchy so publicly; and it wasn't without its repercussions. Members of the band were attacked in the streets; and Government Members of Parliament even called for the Pistols to be hung at Traitors' Gate!
Originally released on May 27th 1977, during the Queen's Silver Jubilee, 'God Save The Queen' made its mark in history. The BBC amongst others refused to play it and although it technically out-sold the Number 1 record of the week (The First Cut is the Deepest by Rod Stewart) 'GSTQ' peaked at Number 2 in the singles charts. The powers-that-be refused to acknowledge it but the Sex Pistols were Number 1.
On the Jubilee holiday itself, June 7th 1977, the Sex Pistols arranged their own Jubilee tribute with a boat trip along the River Thames in full view of the Houses of Parliament. After playing a handful of songs Police boarded the boat and arrested several people; including the band's then manager Malcolm McLaren.
Their now legendary album 'Never Mind The Bollocks, Here's The Sex Pistols' will also be re-issued in September of this year as an expanded and repacked release to commemorate the 35th Anniversary of its release. More details on the reissue will follow shortly.
Follow this link to order GSTQ…
Visit www.sexpistolsofficial.com and on Facebook at www.facebook.com/sexpistolsofficial