Anarchy in the UK picture disc
16th April 2012
Sex Pistols release limited edition 7″ picture disc for Record Store Day, April 21st 2012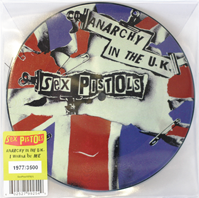 The Sex Pistols will release a limited edition 7″ record of their first ever single 'Anarchy in the UK' on April 21st for Record Store Day.

The re-mastered picture disc 7″ single will also feature original b-side track "I Wanna Be Me", and will be available internationally, but limited to just 3,500 records.

Originally released in November 1976, "Anarchy in the UK" was the band's first call to arms and singlehandedly kick-started the punk movement that spread worldwide. 35 years later, to celebrate Record Store Day, the Sex Pistols are very proud to re-release a collector's edition, 7″ vinyl picture disc of this seminal debut single

Plans are currently underway to re-release the classic album "Never Mind The Bollocks" as an expanded and repackaged release this year to commemorate the band's 35th Anniversary.